EXPRESS LANE REOPENING
Dear Valued Customers, 
           As of June 17, 2019 our Express Lane will be reverting back to no appointment necessary (a first come, first serve basis). However, we understand that some clients prefer a specific appointment time, if this is the case please feel free to call to schedule an appointment with us. We would like to add, in advance, that if you are an owner of a 2500 pickup or larger, or if you own a diesel vehicle, please schedule your maintenance appointment with our main shop. We thank you all for your patience during the construction process so we may serve you better.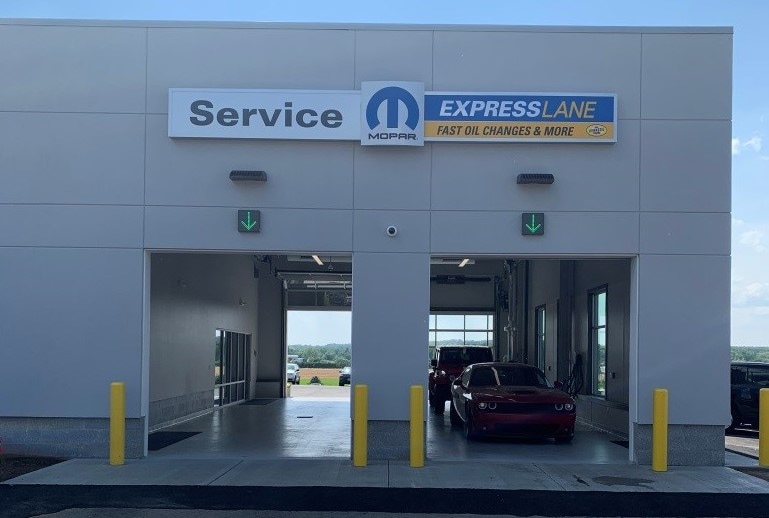 No Appointment Needed
We know your time is important and we've set up our facilities to provide quick, convenient service for changing your oil, checking your vehicle and getting you back on the road quickly and securely.
Done Fast! Done Right!
Oil and Filter Change

Chassis Lube

Tire Rotation with Brake Inspection

Tire Wear and Pressure Check

Battery Test and Replacement*

Multipoint Checkup

Air Filter Replacement

Wiper Blades Replacement

Coolant and Fluid Level Checks and Top Offs

Replace Exterior Bulbs**
*For non-warranty replacements | **Headlamps may be excluded
Service Department Hours
Monday 07:30AM - 06:00PM
Tuesday 07:30AM - 06:00PM
Wednesday 07:30AM - 06:00PM
Thursday 07:30AM - 06:00PM
Friday 07:30AM - 06:00PM
Saturday 08:00AM - 02:00PM
Sunday Closed
Make an Inquiry
Mopar® Express Lane Uses High Quality, Durable Parts
Mopar® original equipment parts are used on all Chrysler, Jeep®, Dodge, Ram and FIAT® vehicles. All parts have been tested to ensure function, fit and finish of original specifications.
Mopar® Express Lane uses only Pennzoil® Motor Oil. We also provide the highest quality Pennzoil synthetic oil, keeping your engine clean and extending the life of any oil change.
Magneti Marelli® has teamed with Mopar® to supply a full line of maintenance and repair parts for all major vehicle makes and models.
Keeping up with your vehicle's routine, scheduled maintenance is the most important way you can protect your investment in your car, truck, or SUV; of those services, regular oil changes rank among the most essential. While you probably already know that you need to change your car's oil every 3,000-5,000 miles, you may not understand why. Well, while you're happily driving the streets of Ellington, CT, your vehicle's engine components are moving quickly under the hood of your car; heat is created from this friction, and the heat can wear down your engine without proper lubrication. In fact, it's so important that if your engine is without it, the heat and friction can cause damage to your engine, so it's imperative that you keep your engine running cool with proper lubrication.
Keeping your engine clean is essential to keeping it running smoothly - while no one likes a dirty car, a dirty engine can actually keep your vehicle from performing optimally. Routine oil and filter changes with help keep the dirt particles and oil sludge that can harm your engine from accumulating and affecting performance. Another way that regular oil changes can benefit your vehicle is by helping you to maximize fuel-efficiency so you can spend less at the gas pump. Fuel consumption can increase when your engine isn't lubricated properly, and this can result in poor performance and higher costs. Overall, regularly scheduled oil changes will improve your vehicle's performance and extend the life of your car, truck, or SUV.
We make servicing your vehicle easy here at Bolles Motors; we know your time is valuable, and that's why we offer Mopar Express Lanes services without an appointment. Now taking care of your engine with routine oil changes just got a little easier! Stop by Bolles Motors today and let the factory-trained experts in our service department take good care of your Chrysler, Dodge, Jeep, or Ram model. We look forward to working with you!
Bolles Motors is about to embark on an extensive remodeling and expansion of our building at the Ellington location starting July 30th; the projects duration is 8 to 10 months. Our intentions are to continue selling and servicing the cars, trucks, vans and SUV's our customers count on every day while the expansion is underway. 
We would like to think the impact on our operations would be minimal but that would be naïve. A project of this scope will require planning, patience and cooperation by all parties on the construction site.
From time to time during the project we will shift parking for display vehicles and those vehicles on site for service. We will do our best to minimize the inconvenience by posting temporary signs as well as valet parking or whatever adjustments are needed. 
One adjustment we will have to make is suspending our no appointment needed Express Lane Oil Change Program. To have vehicles coming in and out without appointments onto an active construction site may be problematic for all involved. We believe the best process is to have scheduled appointments for Express Lane Services during the project.
We also invite folks to utilize our Stafford location for Express Service if they are unable to coordinate a workable time at the Ellington building. 
We will do our best to minimize the inconvenience for our customers as we work through the project. We are excited to have an opportunity to improve your customer experience with a new state of the art facility. Thank you in advance for understanding! 
Sincerely, 
The Bolles Family